INSPIRED HANDMADE OBJECTS
The method of making is my meditation. Artifact Process is about exploring creativity and the way ideas turn into objects. It's about being open to inspiration, following the desire to make, and being curious about how something envisioned changes in the process. My art is a result of this process.
I hope you enjoy my artifacts.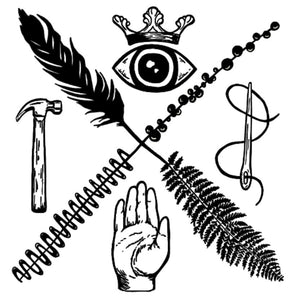 Artifact Process on Instagram
I am very active on Instagram and would love for you to be part of my page. I frequently post on my latest projects and interests, working process, products, and promotions. I hope to see you there.
Follow @artifactprocess on Instagram
WORKS IN PROGRESS
I am deliberate in my work and take my time to conceive of and execute each project. Below are the current pieces I am exploring. Natural colored wool for a small wall weaving that may involve some natural dyes, a collection of tiny talisman made to order rings, and exploration of chaos and grace through watercolor.